I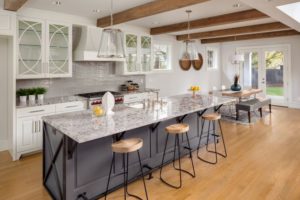 f your residence is the preferred spot for family gatherings, you know how important your kitchen is during those times. To fully enjoy entertaining guests, it's best to design your kitchen that is fully capable of doing so. Fortunately, you can create a kitchen that fulfills all your guest entertainment desires. Keep reading to learn how you can have a perfect hosting kitchen.
Utilize An Open Floor Plan Within Your Kitchen Design
When planning a kitchen, open-floor designs are usually the most effective. This kitchen style is particularly useful for families with young children because it enables them to keep an eye on their kids while cooking. Furthermore, when hosting events, an open-concept kitchen provides an opportunity to engage in conversation while performing necessary hosting duties.
Prioritize Kitchen Islands
Incorporating an island into your kitchen layout can offer numerous benefits. Depending on the design, it expands your preparation area and can also function as a place to sit. By adding some barstools, you can create a versatile space. Additionally, the island can provide storage for appliances not used often but still hold significance, like a warming drawer or wine fridge.
Beverage Stations
If you're committed to being a great host, setting up a beverage station is a good idea. This compact yet impactful area offers your guests a place to help themselves to whatever they fancy – wine, coffee, tea, water, beer, or cocktail fixings. Adding extra features like a small fridge or microwave can further elevate this space.
Practical Storage Options
As a responsible host, it's essential to be present and attentive even when managing multiple dishes and ensuring they are adequately cooked. To achieve this, having proper storage solutions is vital as it helps you locate items quickly without disturbing your guests.
KITCHEN AND BATH REMODELING FROM KENWOOD KITCHENS
Ready to get started on your next kitchen, bathroom, or closet project? Kenwood Kitchens can help. Since opening its doors in 1974, Kenwood Kitchens has made a name for itself throughout Maryland as a complete kitchen and bathroom remodeling firm.
We want our clients to get what they deserve: a quality installation with quality products at a fair price. Contact our expert planners today for a free consultation about your dream project.
Our showrooms are unparalleled, each has over a dozen full models for you to explore. With showrooms located in Lutherville, Abingdon, Columbia, or Annapolis, Maryland, Kenwood Kitchens is the place for all of your kitchen and bathroom needs. Don't hesitate to give us a call at (800) 211-8394.