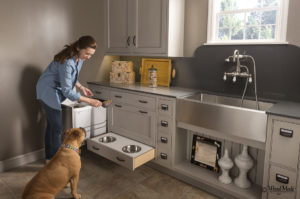 If you have pets living in your home, you're likely aware that their needs can affect your home decor choices. If you're currently renovating your kitchen, take your furry friends into account to create a more practical and organized living space. Thankfully, many pet-friendly kitchen design features are available that can seamlessly blend in with your existing kitchen design. Before finalizing your kitchen renovation plans with Kenwood Kitchens, take a moment to consider if these pet-friendly features would be a good fit for your home.
Pull-Out Food Trays And Water Bowls
Pet food and water dishes are vital kitchen accessories for pet owners. However, you might not want these bowls overwhelming your space and posing a tripping hazard. You can design a pull-out shelf in your kitchen to house a water dish and a feeding bowl. You can put anything you want here, but it is a pet-friendly kitchen design feature that maintains a consistent aesthetic and neat organization.
Laminate Flooring Is Great For Pets
Choose laminate flooring if you want to keep your kitchen appearing new for an extended time. This flooring is easy to clean and will not reveal scratches. Darker woods will display fur, so choose a lighter wood type if your pet sheds. This flooring can provide you with the lovely floors you want without worrying about pet damage.
Pull-Out Trash Cans
Installing pull-out trash bins can help protect your pets from harmful food and prevent unnecessary waste. These bins are hidden beneath your cupboards or counters, exposing your garbage or recycling only when you open the drawer.
Pet-Friendly Surfaces
You may like the beauty of a waterfall countertop or high-gloss cabinetry, but think about how they will appear with paw and nose prints left by your pets. Honed countertops or stained or painted cabinets are a great alternative if you don't want to clean them constantly. Even when pets are present, these design elements can still look fantastic.
KITCHEN AND BATH REMODELING FROM KENWOOD KITCHENS
Ready to get started on your next kitchen, bathroom, or closet project? Kenwood Kitchens can help. Since opening its doors in 1974, Kenwood Kitchens has made a name for itself throughout Maryland as a complete kitchen and bathroom remodeling firm.
We want our clients to get what they deserve: a quality installation with quality products at a fair price. Contact our expert planners today for a free consultation about your dream project.
Our showrooms are unparalleled, each has over a dozen full models for you to explore. With showrooms located in Lutherville, Abingdon, Columbia, or Annapolis, Maryland, Kenwood Kitchens is the place for all of your kitchen and bathroom needs. Don't hesitate to give us a call at (800) 211-8394.