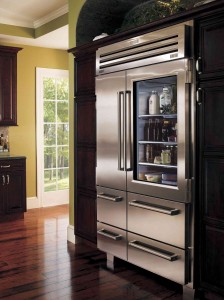 Are you excited to design your dream kitchen? It's essential to take the time to plan your project thoroughly. This will help you establish an accurate budget and avoid unexpected problems during construction or in the future. Before diving in, consider these smart kitchen design tips.
Establish A Clear Plan
Before starting a mini-kitchen renovation project, it's essential to know the size and layout of your kitchen to avoid any space constraints. Ensure to measure the area before purchasing any appliances to avoid bringing home a refrigerator that won't fit. For larger-scale projects, it's recommended to consult a contractor to determine if any walls are load-bearing and if building permits are needed. This can prevent unexpected costs and ensure a smooth renovation process.
Utilize A Functional Design
When planning your new kitchen, it's vital to prioritize functionality over aesthetics and budget. For example, if there's a chef in the house, you might opt for laminate or wood countertops, as they're cost-effective and visually appealing, but remember that they may not withstand heavy use. A better alternative could be a more durable surface, such as quartz, which is heat- and stain-resistant. Moreover, while hardwood may look great, it may not be the most suitable choice for surrounding sinks and appliances, as it tends to wear out faster than stone and ceramic tile.
Prioritize Lighting 
Remember to factor in your lighting fixtures when redesigning your kitchen. Relying solely on overhead lighting can result in unattractive shadows. Consider including under-cabinet lights for task lighting on your countertops to improve your design. Additionally, consider adding accent lighting, such as pendants, to showcase features like kitchen islands or bars. A well-thought-out lighting plan can significantly enhance your kitchen's appearance and usefulness.
Keep Storage in Mind
When planning your kitchen layout, choosing storage options that will maximize your space is crucial. Before selecting any products, inventory all the items you need to store. Deep drawers and spacious cabinets that can accommodate your utensils, pots, and pans, as well as designated areas for your garbage and pantry supplies, are excellent strategies for achieving a tidy and orderly result. 
KITCHEN AND BATH REMODELING FROM KENWOOD KITCHENS
Ready to get started on your next kitchen, bathroom, or closet project? Kenwood Kitchens can help. Since opening its doors in 1974, Kenwood Kitchens has made a name for itself throughout Maryland as a complete kitchen and bathroom remodeling firm.
We want our clients to get what they deserve: a quality installation with quality products at a fair price. Contact our expert planners today for a free consultation about your dream project.
Our showrooms are unparalleled, each has over a dozen full models for you to explore. With showrooms located in Lutherville, Abingdon, Columbia, or Annapolis, Maryland, Kenwood Kitchens is the place for all of your kitchen and bathroom needs. Don't hesitate to give us a call at (800) 211-8394.