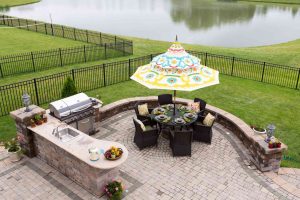 Homeowners typically enhance their outdoor living areas by adding a deck, patio, or swimming pool to their backyard. However, fire pits and outdoor fireplaces are also popular choices. Nevertheless, an outdoor kitchen is an often overlooked yet valuable addition. It is a fantastic extension to your indoor kitchen and is a wise investment if you want to make a statement. Here are the top advantages of having an outdoor kitchen in your home.
Make The Most Of Your Outdoor Space
An outdoor kitchen includes most of the elements found in an indoor kitchen but is tailored to your specific requirements. It can range from a simple kitchen island, cooking utensils, and a grill to a more elaborate setup. If you have a deck or patio, an outdoor kitchen is an ideal addition to enhance the space.
Enjoyable Living With An Outdoor Kitchen
An outdoor kitchen can significantly enhance your home's entertaining experience, especially if you or your family frequently host parties. With multiple locations for people to get their food, you can make the process much more pleasant. Additionally, cooking outdoors allows you to prepare more meals and try different methods beyond the traditional ones.
Lower Utility Bills
Using your oven and stovetop generates a significant amount of heat that can warm up your home quickly. However, it may be tempting to turn on your air conditioning while cooking, but this can lead to a significant increase in your utility bills.
Increase The Value Of Your Home
This kitchen will boost its overall value if you sell your home. The cost is worth the return on investment due to its luxurious ambiance and practicality. Such kitchens are highly sought after and can be a significant selling point for any property.
KITCHEN AND BATH REMODELING FROM KENWOOD KITCHENS
Ready to get started on your next kitchen, bathroom, or closet project? Kenwood Kitchens can help. Since opening its doors in 1974, Kenwood Kitchens has made a name for itself throughout Maryland as a complete kitchen and bathroom remodeling firm.
We want our clients to get what they deserve: a quality installation with quality products at a fair price. Contact our expert planners today for a free consultation about your dream project.
Our showrooms are unparalleled, each has over a dozen full models for you to explore. With showrooms located in Lutherville, Abingdon, Columbia, or Annapolis, Maryland, Kenwood Kitchens is the place for all of your kitchen and bathroom needs. Don't hesitate to give us a call at (800) 211-8394.