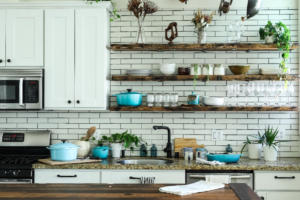 For many homeowners, open shelving is a convenient storage solution. You may lessen storage concerns in your kitchen by using this storage solution. Knowing how to use your kitchen will help you make the best decision when remodeling your space. Here are a few tips for determining whether open shelving is a viable option for your kitchen.
Increase The Functionality Of Your Kitchen 
Open shelves are a low-cost approach to keeping your kitchen tidy while effectively and efficiently storing all your essentials. This rack can quickly open the kitchen, adding variety and space. As a result, investing in these shelves is a great way for homeowners to make their kitchen appear larger than it is without spending money on a redesign.
Consider The Size Of Your Kitchen
The size of your kitchen may determine whether or not this style of storage will work for you. In a tiny kitchen, open shelves might be more compact and functional. With a larger kitchen, however, extensive, available storage loses part of its purpose and becomes more aesthetic.
Make The Switch To Open Shelving Today
Understanding what is essential in your home helps determine whether open shelves are the best option. Nothing is worse than having long, exposed shelving that isn't functional. Because it is your space, only some storage solutions will work for you. Understanding the aim of introducing open shelving into your kitchen will help you decide if it is the best option. Knowing how open shelves would improve your life is a terrific place to start when redesigning your space.
KITCHEN AND BATH REMODELING FROM KENWOOD KITCHENS
Ready to get started on your next kitchen, bathroom, or closet project? Kenwood Kitchens can help. Since opening its doors in 1974, Kenwood Kitchens has made a name for itself throughout Maryland as a complete kitchen and bathroom remodeling firm.
We want our clients to get what they deserve: a quality installation with quality products at a fair price. Contact our expert planners today for a free consultation about your dream project.
Our showrooms are unparalleled, each has over a dozen full models for you to explore. With showrooms located in Lutherville, Abingdon, Columbia, or Annapolis, Maryland, Kenwood Kitchens is the place for all of your kitchen and bathroom needs. Don't hesitate to give us a call at (800) 211-8394.