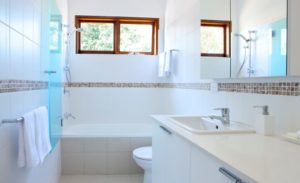 You're not alone if the paint on your bathroom ceiling is flaking off. Peeling paint is usually a straightforward remedy that requires only a few simple tools and processes. Continue reading to learn more about this problem and the solutions available to remove and prevent peeling paint.
What Causes Peeling Paint?
What precisely causes bathroom paint to peel? One likely explanation is an unprofessional paint job, in which each layer of paint was not completely dry before the next coat was put. The other possibility is more common: excessive humidity. When moisture penetrates beneath the paint layer, it moves deeper into the fissure, causing the paint to flake or peel. The longer it continues, the more extensive it will become.
Removal Tips For Peeling Paint
Fixing peeling paint in your bathroom is a relatively easy task. Use a paint scraper to gently remove the flaking paint. Then, either peel the loosened strip of paint or cut it with a utility knife. Finally, sand it down until the surface is smooth. If the peeled paint is minimal, sandpaper can be used. However, if the missing paint creates deep indents, applying joint compound over the surface can help smooth it out.
After removing the peeling paint and smoothing out the ceiling, it's crucial to seal it off from moisture with paint. To do this, lay down a painter's drop cloth or plastic sheet and tape off the area you wish to paint to protect the rest of the bathroom. Clean the area well to get rid of dust on the wall and possible mold spores. After letting it dry, apply a moisture-resistant primer followed by your choice of paint.
Ensure Proper Ventilation
Ensuring proper ventilation is crucial. This can be achieved by having a large window or installing a bathroom exhaust fan. Fans can be put on timers to ensure it stays on during the duration of the shower and additional time afterward to ensure total ventilation. Additionally, leaving the bathroom door slightly open can also help. It's important to allow fresh, cool air to circulate and provide a way for hot, steamy air to escape.
KITCHEN AND BATH REMODELING FROM KENWOOD KITCHENS
Ready to get started on your next kitchen, bathroom, or closet project? Kenwood Kitchens can help. Since opening its doors in 1974, Kenwood Kitchens has made a name for itself throughout Maryland as a complete kitchen and bathroom remodeling firm.
We want our clients to get what they deserve: a quality installation with quality products at a fair price. Contact our expert planners today for a free consultation about your dream project.
Our showrooms are unparalleled, each has over a dozen full models for you to explore. With showrooms located in Lutherville, Abingdon, Columbia, or Annapolis, Maryland, Kenwood Kitchens is the place for all of your kitchen and bathroom needs. Don't hesitate to give us a call at (800) 211-8394.