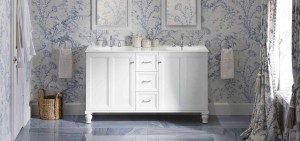 The impact of your bathroom's cabinets on its appearance and atmosphere cannot be overstated. With the right arrangement, your room can feel airy and light while giving you ample space to store your necessities. On the other hand, incorrect cabinetry can make the area feel claustrophobic, out of date, and cluttered. To get the most out of your bathroom cabinets, you must know how to choose ones that precisely complement your area and your décor. Continue reading to learn helpful tips on choosing bathroom cabinets for your space.
Projecting Your Budget
Making an informed selection begins with knowing your financial limitations. A budget helps you refrain from getting something that you can not afford. Some cabinets can cost thousands of dollars, even for minor installations.
How Much Space Do You Have Available?
Inspect the layout of your bathroom to decide where your new cabinets should go. Also, know where your existing plumbing and electrical outlets are to account for that space. Calculating how much floor space you'll need to maintain is a good idea to prevent the area from seeming cramped. Additionally, make sure your new cabinets won't obstruct your door.
Consider Your Storage Needs 
When selecting the cabinets for your revised space, it's critical to consider your storage needs carefully. Before you start shopping, take inventory of all the items you use and think about the best way to store them. For example, if your current cabinets force you to keep your hair dryer in a knee-level cabinet because the drawers aren't large enough to hold it, look for something with deeper or broader drawers. Also, remember how many people use that bathroom regularly, as this is another vital aspect.
Selecting Your Grade And Style 
You have plenty of alternatives when it comes to cabinet solutions for your bathroom. For instance, you might purchase readily put-together models ready to assemble to save money. On the other hand, you can use professional experts to make custom cabinets that are manufactured to order and according to your exact specifications. Your project's budget will be the determining element in this situation. The next step is to decide on the finish and style. Most of the time, this comes down to your personal preferences, but if you want to avoid performing a significant renovation, it's a good idea to match the appearance of your bathroom as nearly as you can.
KITCHEN AND BATH REMODELING FROM KENWOOD KITCHENS
Ready to get started on your next kitchen, bathroom, or closet project? Kenwood Kitchens can help. Since opening its doors in 1974, Kenwood Kitchens has made a name for itself throughout Maryland as a complete kitchen and bathroom remodeling firm.
We want our clients to get what they deserve: a quality installation with quality products at a fair price. Contact our expert planners today for a free consultation about your dream project.
Our showrooms are unparalleled, each has over a dozen full models for you to explore. With showrooms located in Lutherville, Abingdon, Columbia, or Annapolis, Maryland, Kenwood Kitchens is the place for all of your kitchen and bathroom needs. Don't hesitate to give us a call at (800) 211-8394.