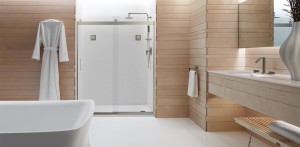 Do you want to remodel your bathroom but need help figuring out where to begin? Think about starting with your shower doors. They not only give your room a sense of elegance, but they also have several valuable advantages. This blog details many benefits of new shower doors for your bathroom.
Update Your Bathroom With Shower Doors
Changing to new shower doors is a quick and easy way to change the appearance and atmosphere of your bathroom. Homeowners may increase the functionality of their bathroom while also improving their level of privacy by choosing from alternatives, including framed, frameless, sliding, and hinged shower doors available in different glass enclosures. New shower doors also increase the value of your house and go with any design theme without sacrificing grace or beauty.
Choose Glass Enclosures
Choosing glass enclosures for your bathroom can make it appear contemporary and open while requiring less upkeep. To match your décor, they are available in various styles, including semi-frameless and frameless versions. Glass doors can even increase the worth of your house and offer a touch of luxury to your daily activities.
A Wide Variety
You have a variety of alternatives when it comes to shower doors. In cramped little bathrooms, sliding doors are a great solution. Pivot doors are more suited to larger spaces and provide a broader opening. Choose frameless choices for your bathroom if you want a sleek and contemporary style. But bear in mind that compared to their framed counterparts, these doors could need more upkeep.
Frameless Shower Doors
Your bathroom can look more contemporary and open with frameless shower doors, which are also easier to clean because there are no metal frames. They need thicker glass and competent installation. Though they are perfect for showing ornamental tile work or design elements, consider the safety of toddlers or dogs who might run into the glass.
KITCHEN AND BATH REMODELING FROM KENWOOD KITCHENS
Ready to get started on your next kitchen, bathroom, or closet project? Kenwood Kitchens can help. Since opening its doors in 1974, Kenwood Kitchens has made a name for itself throughout Maryland as a complete kitchen and bathroom remodeling firm.
We want our clients to get what they deserve: a quality installation with quality products at a fair price. Contact our expert planners today for a free consultation about your dream project. Our showrooms are unparalleled, each has over a dozen full models for you to explore. With showrooms located in Lutherville, Abingdon, Columbia, or Annapolis, Maryland, Kenwood Kitchens is the place for all of your kitchen and bathroom needs. Don't hesitate to give us a call at (800) 211-8394.