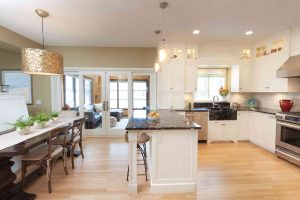 The kitchen may be the most significant space in your house, therefore, if it can be filled with décor and outdated equipment. In addition to ensuring that your kitchen is attractive and functional, paying attention to kitchen design trends for fresh ideas might raise your home's value and curb appeal. Keep reading to learn more about the following kitchen design trends.
Pieces That Standout
Large statement items have become one of the most popular trends in kitchen design. To highlight the kitchen while maintaining a clean aesthetic, use a neutral color scheme with a flash of texture or color. Statement marble backsplashes, cabinets, paint colors, and even appliances have been featured. Of course, a design will only be pleasant if there are enough statement items. Decide on neutral colors and turn your favorite component into a statement piece.
Emphasize Minimalism
A current design trend is minimalism with an efficient design. Low-profile cabinets and refrigerators with cupboard fronts will offer a kitchen a tidy, uncluttered appearance. You can select a countertop range and install low-profile ovens below your counters when choosing appliances.
Unique Storage Options
One of the most intriguing kitchen design trends this year is using specialized shelving to display your favorite gadgets. Keeping the design straightforward would be beneficial and letting your appliances and cookware stand out.
Sustainable Materials
This year, using high-quality, functional materials is undoubtedly the most significant kitchen design trend. Concentrating on materials that are simple to keep, clean, function well under heat, and are scratch-resistant would be preferable when developing your kitchen design ideas.
KITCHEN AND BATH REMODELING FROM KENWOOD KITCHENS
Ready to get started on your next kitchen, bathroom, or closet project? Kenwood Kitchens can help. Since opening its doors in 1974, Kenwood Kitchens has made a name for itself throughout Maryland as a complete kitchen and bathroom remodeling firm.
We want our clients to get what they deserve: a quality installation with quality products at a fair price. Contact our expert planners today for a free consultation about your dream project. Our showrooms are unparalleled, each has over a dozen full models for you to explore. With showrooms located in Lutherville, Abingdon, Columbia, or Annapolis, Maryland, Kenwood Kitchens is the place for all of your kitchen and bathroom needs. Don't hesitate to give us a call at (800) 211-8394.