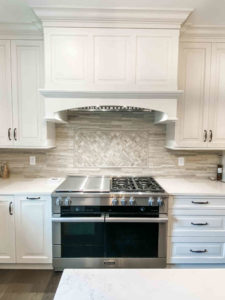 Unfortunately, your home might have a small kitchen. Despite having a small space for your kitchen, you can still have an area where you can do the same things as if it was twice the size. Having a smaller kitchen means you must ensure that you make the most of your space. Continue reading to learn more about how you can enhance a smaller kitchen.
Give Your Smaller Space A Purpose
Families and individuals own their kitchens, as each one is distinctive. Do you frequently consume coffee or provide the kids with many snacks? Do you prefer to eat breakfast there or make your pasta? Make a list of these factors and base your design decisions on them.
Prioritize Storage
Like no other area in the house, the kitchen requires adequate storage. Toe-kick drawers, corner lazy susans, and floor-to-ceiling cabinetry are just a few techniques to maximize storage space. Every kitchen will have clutter, but in a small kitchen, any amount will look like a tornado has swept through it. When considering your storage design, account for the items you use most, so there's a place for everything.
Use A Light Color Scheme
A light color palette should be chosen to maintain the illusion of space in small kitchens. Though one can also use other light colors, white and off-white are timeless colors. Another suggestion to further open up the room is to paint the cabinets and walls the same color.
Sufficient Lighting
Smart lighting solutions are also necessary to prepare food and beverages in small kitchens. While recessed and pendant lighting is stylish options, under-counter lighting can illuminate your kitchen area. 
KITCHEN AND BATH REMODELING FROM KENWOOD KITCHENS
Ready to get started on your next kitchen, bathroom, or closet project? Kenwood Kitchens can help. Since opening its doors in 1974, Kenwood Kitchens has made a name for itself throughout Maryland as a complete kitchen and bathroom remodeling firm.
We want our clients to get what they deserve: a quality installation with quality products at a fair price. Contact our expert planners today for a free consultation about your dream project. Our showrooms are unparalleled, each has over a dozen full models for you to explore. With showrooms located in Lutherville, Abingdon, Columbia, or Annapolis, Maryland, Kenwood Kitchens is the place for all of your kitchen and bathroom needs. Don't hesitate to give us a call at (800) 211-8394.