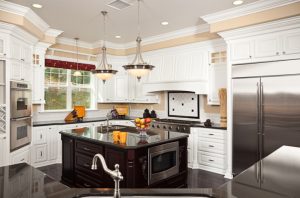 Is your kitchen in need of an upgrade, or is there anything lacking but you're not sure what it is? If you said yes to either of these, think about giving your kitchen a splash of different colors and hues. Here are a few ideas you can use to liven up your kitchen.
Consider Using Open Shelving
Do you possess some bright cookware or dishware that you have been itching to display? Installing open shelves is a terrific method to store your goods as well as exhibit colorful items in your kitchen. To incorporate a natural aspect into your kitchen, use wooden shelves and small indoor plants. Open shelves give you the most creative freedom to display whatever you want and make it simple to switch it up at any moment.
Utilize A Backsplash
Installing a distinctive backsplash is another excellent method to revamp the appeal of your kitchen. There are several lovely backsplash patterns to pick from that will give your kitchen more color or contrast. At Kenwood Kitchens, we will work with you to choose a backsplash style that will give your kitchen an eye-catching focal point.
Add Color To Your Wooden Components
Add a pop of color for your kitchen island to contrast and compliment the rest of your kitchen. You can also paint over any kitchen cabinetry for a relatively practical and inexpensive way to enhance the appeal of your kitchen. Using color within your kitchen will certainly make this area one of the more enjoyable spaces in your home for you and your guests.
KITCHEN AND BATH REMODELING FROM KENWOOD KITCHENS
Ready to get started on your next kitchen, bathroom, or closet project? Kenwood Kitchens can help. Since opening its doors in 1974, Kenwood Kitchens has made a name for itself throughout Maryland as a complete kitchen and bathroom remodeling firm.
We want our clients to get what they deserve: a quality installation with quality products at a fair price. Contact our expert planners today for a free consultation about your dream project. Our showrooms are unparalleled, each has over a dozen full models for you to explore. With showrooms located in Lutherville, Abingdon, Columbia, or Annapolis, Maryland, Kenwood Kitchens is the place for all of your kitchen and bathroom needs. Don't hesitate to give us a call at (800) 211-8394.