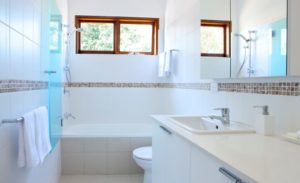 Upgrading your bathroom can significantly raise the value of your property. However, determining whether or not your bathroom needs upgrades might be difficult. Here are four distinct indicators that it is time to remodel your bathroom.
Wear And Tear On Your Fixtures
If you've noticed cracked tiles, or leaking faucets, for example, it's time for a bathroom remodel. These damages are not only an eyesore but also a safety hazard. Don't risk falling or inhaling mold and toxins. Invest in a bathroom remodel for your peace of mind, especially if your bathroom has experienced water damage. 
Your Bathroom Design Is Outdated
Is your bathroom's décor and appliances out of date? Allow Kenwood Kitchens to help rebuild your new-and-improved bathroom if it is lacking in the ambiance department. The atmosphere you go into every day should leave you satisfied. Common features of an outdated bathroom often include old faucets, damaged light fixtures, or bad color schemes. 
Inadequate Lighting 
Proper lighting is a crucial aspect of any functional bathroom. Adequate lighting also contributes to the overall ambiance of your space. You can improve your lighting by incorporating additional light fixtures or installing a lighted vanity mirror. You can also include natural light with windows as well. 
Your Lifestyle Has Changed 
If an elderly parent has moved in with you, modifications to your bathroom might be necessary. Or, your family might be growing, and you need a larger bathroom to accommodate another child. Keep in mind that this space should constantly adjust to your changing needs.
KITCHEN AND BATH REMODELING FROM KENWOOD KITCHENS
Ready to get started on your next kitchen, bathroom, or closet project? Kenwood Kitchens can help. Since opening its doors in 1974, Kenwood Kitchens has made a name for itself throughout Maryland as a complete kitchen and bathroom remodeling firm.
We want our clients to get what they deserve: a quality installation with quality products at a fair price. Contact our expert planners today for a free consultation about your dream project. Our showrooms are unparalleled, each has over a dozen full models for you to explore. With showrooms located in Lutherville, Abingdon, Columbia, or Annapolis, Maryland, Kenwood Kitchens is the place for all of your kitchen and bathroom needs. Don't hesitate to give us a call at (800) 211-8394.