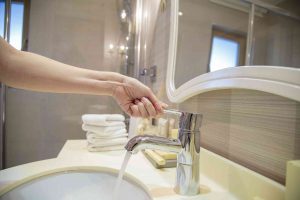 The bathroom sink faucet is one of the features that is often overlooked when planning a bathroom renovation. There are several bathroom sinks to choose from when considering your options. Listed below are some different faucets for you to consider for your next bathroom remodel.
Single Handle Faucet
A single-handle faucet is one of the most frequent bathroom sink faucets available and comes in various styles and materials. It is relatively easy to install and an excellent choice for any bathroom.
Center-Set Faucet
A center set faucet comprises two distinct handles on either side. This type of faucet also often has a shorter spout. If you have a smaller bathroom, a center-set faucet could be a reliable option for your bathroom area.
Wall Mount Faucet
The wall mount model is another elegant bathroom faucet style. This faucet is mounted horizontally on the wall above the bathroom sink. It appears like a natural water source flowing from a wall spout. This look also looks great with a vessel sink.
Bridge Faucet
The bridge faucet comprises two handles that link into the spout above it, rather than one tap set like the center set or three sections like the spread fit. The bridge faucet will complement nearly any bathroom style.
KITCHEN AND BATH REMODELING FROM KENWOOD KITCHENS
Ready to get started on your next kitchen, bathroom, or closet project? Kenwood Kitchens can help. Since opening its doors in 1974, Kenwood Kitchens has made a name for itself throughout Maryland as a complete kitchen and bathroom remodeling firm.
We want our clients to get what they deserve: a quality installation with quality products at a fair price. Contact our expert planners today for a free consultation about your dream project. Our showrooms are unparalleled, each has over a dozen full models for you to explore. With showrooms located in Lutherville, Abingdon, Columbia, or Annapolis, Maryland, Kenwood Kitchens is the place for all of your kitchen and bathroom needs. Don't hesitate to give us a call at (800) 211-8394.