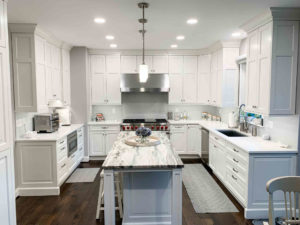 Families come in all shapes and sizes. Whether you have an infant, toddler, teenager, or are an empty-nester, kids will inevitably end up in the kitchen. You don't have to sacrifice style when you need some babyproofing. Here are some tips to help keep your sanity intact when there are tiny tornados running through your home. As a family-owned and operated company, Kenwood Kitchens has seen it all when it comes to families gathering in the heart of the home

Thoughtful Organization
You may need to rethink the layout of your storage. Inevitably, kids are going to get into the cabinets. Toddlers are notorious for touching anything they can get their hands on. This means storing things low that are relatively safe and not breakable. Think, plastic food storage containers, wooden spoons, or water bottles. Storing the glassware, breakables, and dangerous objects up high or within a locked cabinet is a must. Tiny toddlers may eventually learn how to climb up onto the counter. Knives can be stored within a drawer which can even be locked.
Internal Locking Mechanisms
Ugly handle latches for baby proofing don't need to be the default to lock the cabinets anymore! New cabinetry may be available with integrated interior locking mechanisms, accessible with either with a key or a magnet. There are plenty of after-market options available that utilize hidden locking devices. The sink cabinet may be where you store cleaning products and chemicals, in addition to plumbing and potential electrical systems, so it is imperative to have this cabinet inaccessible to little fingers.
Kids' Cabinets
We all have a good idea of what the kids can't touch… so what can they have? A base cabinet with rollout drawers could be the perfect place to load up on snacks or even some fun toys! If you're trying to get dinner on the table a distraction is typically needed for some length of time. Having age-appropriate snacks or activities can give you the much-needed few moments to get that next meal together!
Furry Friends are Family too!
Your furry friends also need their own space. Whether that is for toys, food, or beds, Kenwood can help come up with a creative solution that suits your needs. If you've got fur kids and human kids, having the food bowls out may not be the best option. The food poses a choking hazard for curious babies and water spills can cause falls. Putting bowls built into a drawer can be the perfect solution for your pet's food as well as keeping your child safe as well
KITCHEN AND BATH REMODELING FROM KENWOOD KITCHENS
Ready to get started on your next kitchen, bathroom, or closet project? Kenwood Kitchens can help. Since opening its doors in 1974, Kenwood Kitchens has made a name for itself throughout Maryland as a complete kitchen and bathroom remodeling firm.
We want our clients to get what they deserve: a quality installation with quality products at a fair price. Contact our expert planners today for a free consultation about your dream project.
Our showrooms are unparalleled, each has over a dozen full models for you to explore. With showrooms located in Lutherville, Abingdon, Columbia, or Annapolis, Maryland, Kenwood Kitchens is the place for all of your kitchen and bathroom needs. Don't hesitate to give us a call at (800) 211-8394.