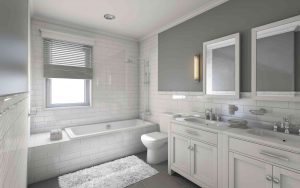 A bathroom renovation project can elevate your home's value in unprecedented ways. It can be challenging to determine whether your bathroom requires an upgrade. Many homeowners assume their bathroom is at its best if it's functional, which is only sometimes the case. Here are some signs that it's time for a bathroom upgrade.
Wear And Tear
If you're noticing cracked tiles, leaking faucets, and a ceiling crumbling from water damage, it's time for a bathroom remodel. These damages not only look bad, but they can also be dangerous for your health. Remember, each room in your home experiences daily wear and tear, but you deserve to have a safe and beautiful bathroom.
Outdated Design
Is your bathroom stuck in the past, resembling a design from 40 years ago? It may be time for a much-needed upgrade. Some homeowners inherit a bathroom design from previous owners that don't match their style. If you're unhappy with outdated faucets, lighting fixtures, or unappealing color schemes, let Kenwood Kitchens help improve the design of your bathroom.
Inadequate Lighting
Proper lighting is crucial in a bathroom to ensure functionality. This space serves as a venue for various grooming activities such as hair styling, makeup application, and personal grooming. In addition, adequate lighting can contribute to the room's overall ambiance. You can improve the lighting by installing additional light fixtures or a lighted vanity mirror. Alternatively, you can let natural light in by adding windows to your bathroom.
Lifestyle Changes
If you have an elderly parent or in-law living with you, you may need to change your home to ensure their safety while showering or bathing. Similarly, if your family expands, you may require a more oversized bathroom to accommodate another child. Your living area should be adaptable to meet your evolving requirements.
KITCHEN AND BATH REMODELING FROM KENWOOD KITCHENS
Ready to get started on your next kitchen, bathroom, or closet project? Kenwood Kitchens can help. Since opening its doors in 1974, Kenwood Kitchens has made a name for itself throughout Maryland as a complete kitchen and bathroom remodeling firm.
We want our clients to get what they deserve: a quality installation with quality products at a fair price. Contact our expert planners today for a free consultation about your dream project.
Our showrooms are unparalleled, each has over a dozen full models for you to explore. With showrooms located in Lutherville, Abingdon, Columbia, or Annapolis, Maryland, Kenwood Kitchens is the place for all of your kitchen and bathroom needs. Don't hesitate to give us a call at (800) 211-8394.