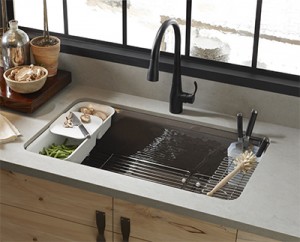 Choosing a proper sink is essential if you're considering renovating or building your kitchen. There are several factors to consider before making your final decision. In this blog, we will provide all the necessary information to help you select the perfect kitchen sink.
How To Choose An Appropriate Size?
When choosing a sink size, it's essential to consider the available space. If you have a smaller kitchen, a smaller sink will be better, while a more extensive kitchen can accommodate a more significant sink. If you plan to use the base cabinet for storage, remember to factor in the depth of the sink. Additionally, ask yourself what the primary use of the sink will be. If you frequently cook, a larger, deeper sink will be more suitable for accommodating all your utensils and cookware.
What's the Most Popular Sink Style?
Top-mount or drop-in kitchen sinks are the most popular in most kitchens. Depending on the manufacturer's instructions, these sinks are installed on the top part of the kitchen counter. The name self-rimming originates from this sink edge's ability to create a rim. Undercount sinks are fixed under the counter and are most suitable for slide and granite surfaces. Also, they're easy to clean.
Which Material Is Best For The Kitchen?
Ceramic basin sinks are a popular choice for their affordability and ease of maintenance. However, their hard surface can lead to delicate utensils breaking if dropped in the sink. To prevent this, a removable sink mat can be used. Although ceramic sinks are heat-sensitive, they can withstand hot cookware. Stainless steel sinks are also a common choice for modern kitchens as they complement the interior décor and are durable and scratch-resistant, ensuring long-lasting use. Their bright and attractive appearance adds to their appeal.
KITCHEN AND BATH REMODELING FROM KENWOOD KITCHENS
Ready to get started on your next kitchen, bathroom, or closet project? Kenwood Kitchens can help. Since opening its doors in 1974, Kenwood Kitchens has made a name for itself throughout Maryland as a complete kitchen and bathroom remodeling firm.
We want our clients to get what they deserve: a quality installation with quality products at a fair price. Contact our expert planners today for a free consultation about your dream project.
Our showrooms are unparalleled, each has over a dozen full models for you to explore. With showrooms located in Lutherville, Abingdon, Columbia, or Annapolis, Maryland, Kenwood Kitchens is the place for all of your kitchen and bathroom needs. Don't hesitate to give us a call at (800) 211-8394.