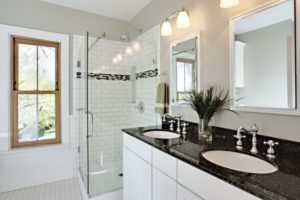 In the past, having a bathtub in a bathroom was considered essential. Nowadays, however, many bathrooms are designed without a tub. While some families with young children still find a tub necessary, others have chosen to live without one. When you think about it, a bathroom without a tub has many advantages. If you're planning a bathroom renovation and don't require a tub for daily use, consider these three benefits of going tub-less.
Enjoy More Space 
If you are considering a bathroom redesign, it is likely because the current layout is not meeting your needs, often due to limited space. Tubs can take up considerable floor space, which may be unnecessary if you do not frequently use them. Opting for a bathroom design without a tub can free up valuable floor space for other purposes that better suit your needs.
Utilize A More Comfortable Shower
Many individuals choose to utilize their extra floor space by upgrading their showers. With all that extra room, you can imagine the fantastic shower you could have. Even if you prefer a standard shower without any fancy features, having more space to stand is quite luxurious. Additionally, a shower the size of a tub-shower combo would allow for integrated seating.
A Bathroom For The Future 
Making changes to your bathroom and home can help you age in place comfortably. One of these changes is integrating seating in your bathroom. The aging-in-place design incorporates features that are easy to use and manage as you age. Removing your bathtub and creating more floor space is smart for aging in place. This free space can be used to install handrails and other age-in-place features to ensure long-term accessibility.
KITCHEN AND BATH REMODELING FROM KENWOOD KITCHENS
Ready to get started on your next kitchen, bathroom, or closet project? Kenwood Kitchens can help. Since opening its doors in 1974, Kenwood Kitchens has made a name for itself throughout Maryland as a complete kitchen and bathroom remodeling firm.
We want our clients to get what they deserve: a quality installation with quality products at a fair price. Contact our expert planners today for a free consultation about your dream project.
Our showrooms are unparalleled, each has over a dozen full models for you to explore. With showrooms located in Lutherville, Abingdon, Columbia, or Annapolis, Maryland, Kenwood Kitchens is the place for all of your kitchen and bathroom needs. Don't hesitate to give us a call at (800) 211-8394.