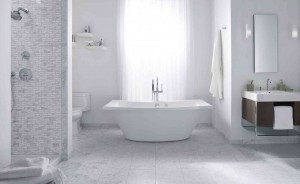 A small bathroom, or any small space, can be a challenge to use well. It can be challenging to know how to revamp your bathroom in a way that takes care of the clutter, but still stays spacious. With the right elements, though, your small bathroom can feel like an expansive (and expensive) getaway.
Visual Interest
One way to create a sense of spaciousness in the bathroom is to add a focal point. This feature should trick the eye into thinking that the room is much larger than it is. A large mirror can give the allusion the area is doubly roomy, and also reflect light for double brightness. A painting or other work of art can bring someone's attention to the image rather than its surroundings. If it is a landscape or another setting, it can seem like a window into another space.
Shelving
When redesigning a small room, one cannot overestimate the amount of storage one might need. Plus, if you do run out of storage, there are numerous ways to add it where you might not expect. Behind-the-mirror storage is a popular choice, while under-the-sink cabinets are optional. If you do have storage space there, you could add a shelf or tension rod to create another surface. The ultimate guiding principle for creating shelving in a small bathroom is to think vertically. 
Recessed Shelves and Lights
On the other hand, this article cannot forget to mention recessed shelves and lights. If you don't have space to put shelving in, bump the walls in to create the storage nooks you need. You only need the empty spaces in your walls to do this project. Recessed lights are unobtrusive and get the job done.
Glass Shower Doors
Design experts recommend glass shower doors in a small bathroom. Glass panels are cleaner than shower curtains, and make that essential space feel like a part of the entire room.
Light Colors
Dark walls may give a room a luxurious or moody feel to it, but if it's airiness you're going after, you will want to paint your bathroom in light, neutral colors. Off-white, beige, light blue, yellow, etc. will make the space brighter.
Mixed Materials
To add even more light and more interest, make sure you vary the materials in your bathroom. Make the texture of the wall different from the texture of the floor. If you use tile on both the floor and walls, use a smaller tile for the floor and a large, smooth kind for the rest.
KITCHEN AND BATH REMODELING FROM KENWOOD KITCHENS
Ready to get started on your next kitchen, bathroom or closet project? Kenwood Kitchens can help. Since opening its doors in 1974, Kenwood Kitchens has made a name for itself throughout Maryland as a complete kitchen and bathroom remodeling firm.
We want our clients to get what they deserve: a quality installation with quality products, at a fair price. Contact our expert planners today for a free consultation about your dream project.
Our showrooms are unparalleled, each has over a dozen full models for you to explore. With showrooms located in Lutherville, Abingdon, Columbia or Annapolis, Maryland, Kenwood Kitchens is the place for all of your kitchen and bathroom needs. Don't hesitate to give us a call at (800) 211-8394.