Is your kitchen in need of a makeover, or you know it's missing something but you can't quite put your finger on it? If you answered yes to either of these questions, consider adding a pop of color to your kitchen!
While neutral-colored kitchens are very popular and stunning, they can also get a little bland over time if you don't add a bit of color or character to the room. If your kitchen is stuck in neutral rut, here are 5 simple ways to freshen up your kitchen.
1. Open Shelving & Colorful Displays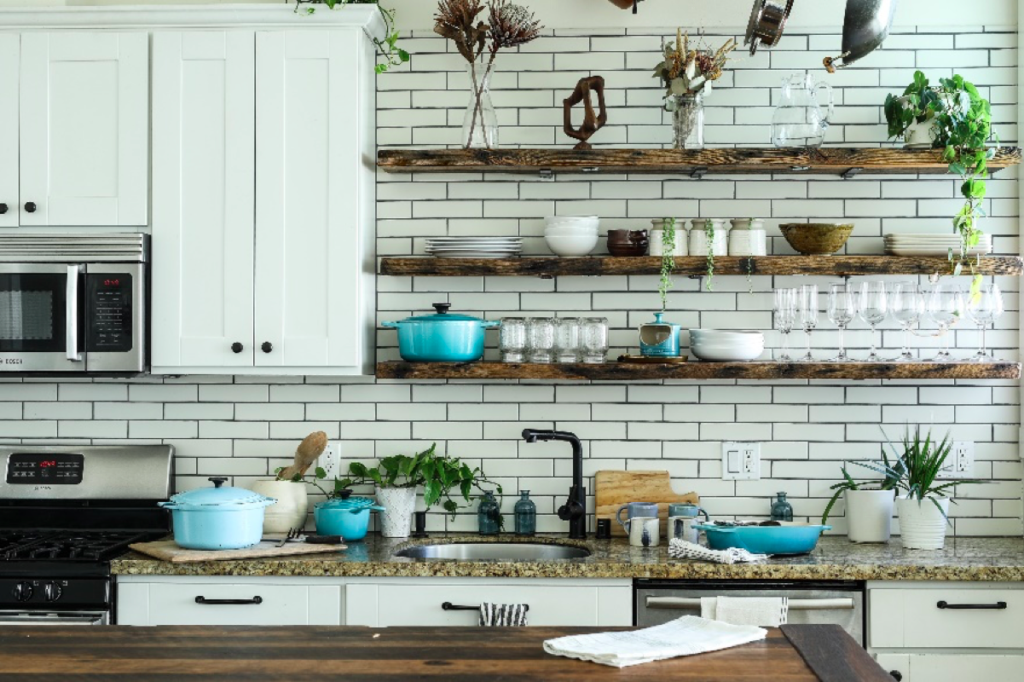 Do you have any colorful cookware or dish-ware that you've been waiting to show off? Installing open shelves is not only a great way to display colorful items in your kitchen but to store your kitchenware as well. Use wooden shelves and greenery, similar to those featured in the photo above, to add a natural element to your kitchen.
The best part about installing open shelves is that you have a lot of creative freedom to display whatever you like and can easily change what you display at any time. At Kenwood Kitchens, we will help you select the perfect shelving that will help accentuate and add character to your kitchen.
2. Brilliant Backsplash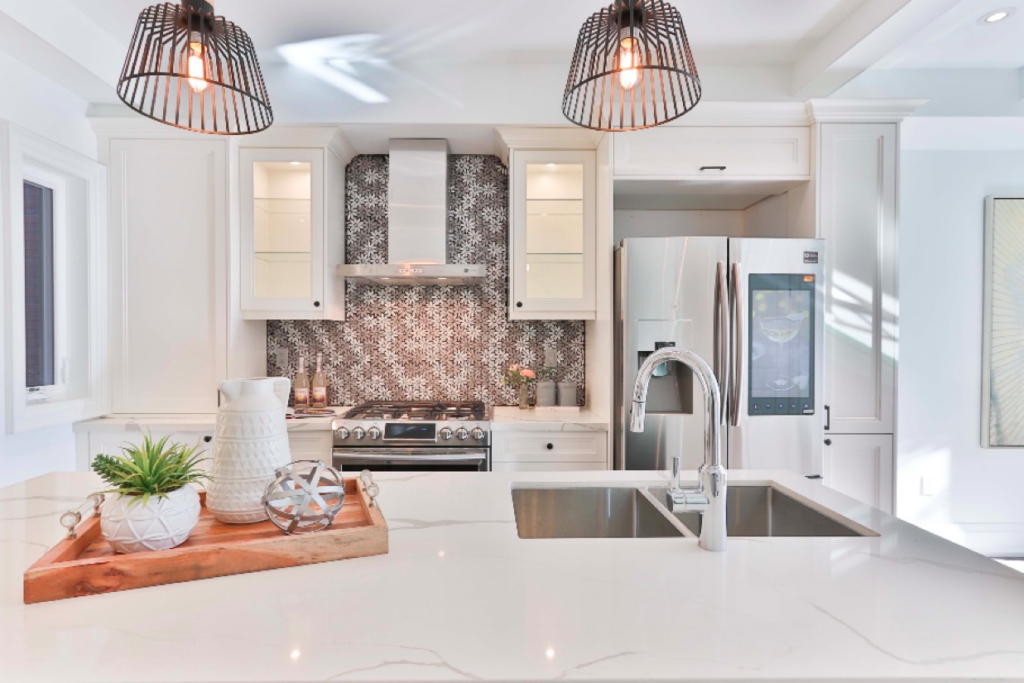 Another great way to add contrast is installing unique backsplash. There are countless beautiful backsplash designs to choose from that will add color or contrast to your kitchen. Our designers at Kenwood will help you select a backsplash design that will add an eye-catching focal point to your kitchen. Check out our design inspiration board on Pinterest to help you get ideas.
3. Colorful Cabinets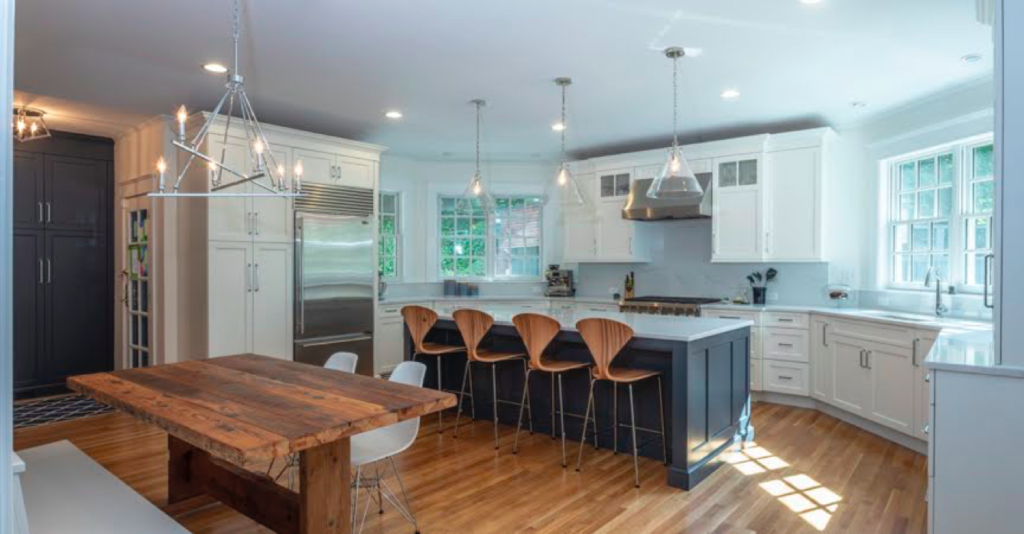 Add a pop of color (navy blue shown) for your island to contrast and compliment the rest of your kitchen. Using color within your kitchen will certainly make this a happy place for you and your guests. This is a very popular kitchen and bath design trend right now that our designers would love to help create with you! Check out our last blog post to read more about this trend here.
4. Multicolored Rug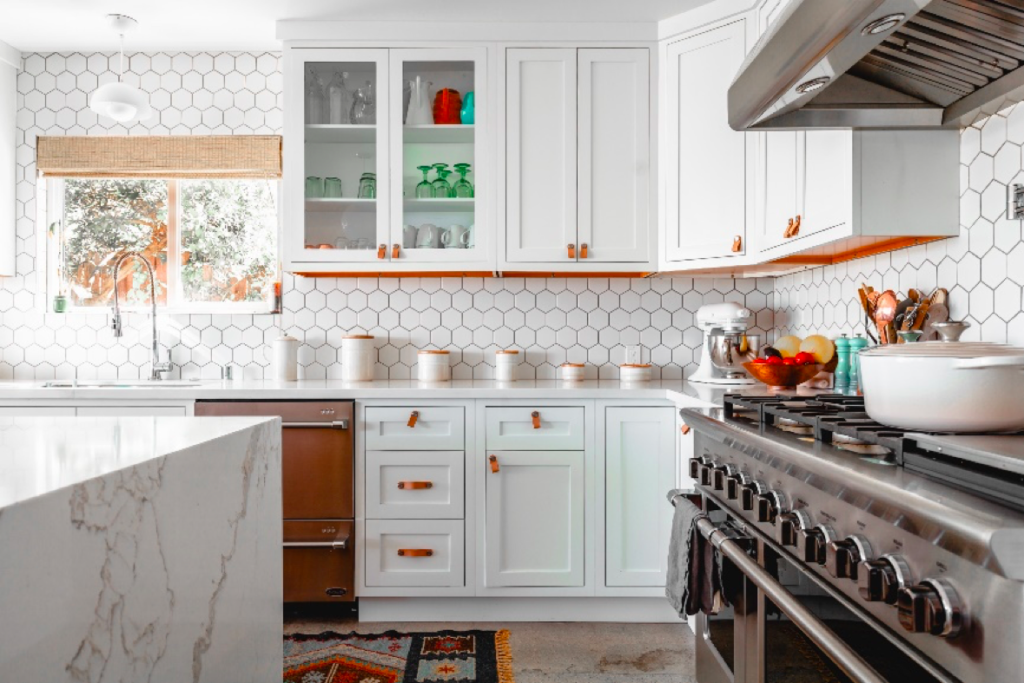 Now, maybe you've already had your kitchen remodeled by Kenwood and love all the new features but haven't decorated it yet. Adding a colorful carpet runner to complement the décor in your kitchen is a great way to coordinate the colors in the room in a stylish, yet simple, way. It also may add some comfort underfoot.
5. Fresh Fruit & Flowers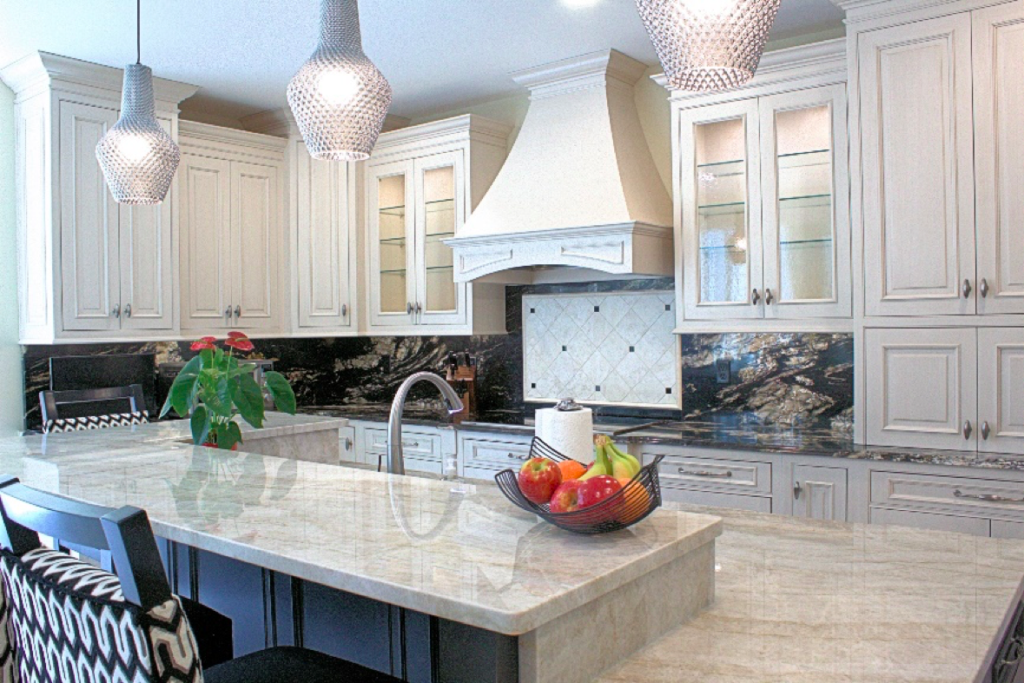 If you are done remodeling your kitchen and are looking for another simple way to add color to your kitchen, set out your favorite fruits and flowers. A fresh bowl of bright red apples will not only add a touch of color to your kitchen but also offers a healthy snack for your family and guests to enjoy!
If you're ready to begin the remodel process with Kenwood Kitchens, click here to contact one of our locations near you.
Still looking for more kitchen remodel ideas? You can find more helpful tips here.