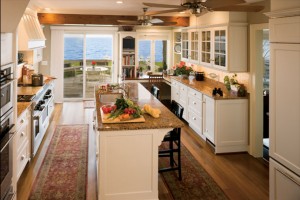 Designing a kitchen layout can be more complicated than one might think at first. The basic form that designers have created is the basic triangle form. The kitchen's traffic paths depend on three points: the stove, the sink, and the refrigerator. The refrigerator usually is nearest to an exit so that anyone can grab a drink or a quick snack while the cook is hard at work. Meanwhile, the best kitchen layout designs follow this triangle format in unique ways.
One Wall Kitchen
The first admittedly does not follow the triangle shape, but it is the best for a small space like a studio apartment. Along one wall, you will find the refrigerator, the sink, and the stove. Even though it is simple, it can be as sleek, stylish, and accessible as any other design.
L-Shaped Kitchen
An L-shaped kitchen naturally takes up two adjacent walls of a home. It is not technically an ideal layout if you want the kitchen to be a place where people congregate. However, it makes good use of the triangle design for smooth traffic flow and saves space. One can easily add an island, work table, or dining table to fill the floor.
Island Kitchen
An L-shaped kitchen with an island counts as an island kitchen. However, a one-wall kitchen with an island opposite to it is also an island design. The island creates a space for people to sit, prepare meals, or even cook. It is one of the best kitchen layout designs for open-concept homes.
Galley Kitchen
A galley kitchen, meanwhile, turns that island into a wall. Between two parallel walls, a galley kitchen is known for its space-saving design. The sink and refrigerator line one side while the stove sits opposite. Also known as a "walk-through" kitchen if there is an opening on both ends, this design avoids dealing with those pesky corner spaces.
U-Shaped Kitchen
A U-shaped kitchen, meanwhile, is one of the most ubiquitous of kitchen layout designs. Two main points of the triangle may be on one wall and the third on the opposite, or one point may sit on each side. If your kitchen is big enough, you can add an island in the middle. A U-shaped kitchen is ideal for multiple cooks.
Peninsula Kitchen
A peninsula kitchen involves an attached island. A U-shaped kitchen can have an island as one of the "walls," or turn into a G-shaped kitchen with an island bump-out. When a full island is not practical for your space, an attached one is best. 
KITCHEN AND BATH REMODELING FROM KENWOOD KITCHENS
Ready to get started on your next kitchen, bathroom or closet project? Kenwood Kitchens can help. Since opening its doors in 1974, Kenwood Kitchens has made a name for itself throughout Maryland as a complete kitchen and bathroom remodeling firm.
We want our clients to get what they deserve: a quality installation with quality products, at a fair price. Contact our expert planners today for a free consultation about your dream project.
Our showrooms are unparalleled, each has over a dozen full models for you to explore. With showrooms located in Lutherville, Abingdon, Columbia or Annapolis, Maryland, Kenwood Kitchens is the place for all of your kitchen and bathroom needs. Don't hesitate to give us a call at (800) 211-8394.