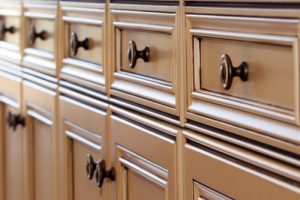 The refrigerator, the stove, and the sink may be the three anchors of the kitchen, but cabinets take up a lot more space and define the style of the room. Finally getting to that kitchen renovation is exciting; in today's market, there are more space-saving features and stylistic designs than ever.
Materials
The materials of your cabinets will be your first concern. Solid wood remains the most popular choice, and there are various species to choose from, like cherry or white oak which has become very popular. However, other materials available include stainless steel, melamine, smooth or textured laminates, glass and MDF used for many painted door styles. Be sure to check out the look and the pros and cons of each.
Door Designs
Next, you will want to choose your door design. There are countless styles to choose from, from no ornamentation to highly-detailed craftsmanship. Of course, the more detailed the work is, the more expensive it will be, and you may have to wait longer for your delivery to arrive.
Colors
The color of your kitchen cabinets can set the color scheme. Depending on the type of material you choose, you can have anything from dark chocolate cabinets to pale, tan ones. Some are more yellow, and some shine red. Painted cabinets seem to be the most popular right now where you can choose almost any color you desire. White painted cabinets are always a classic and stand alone as the #1 choice.
Hardware
While the face of your cabinetry is important, don't forget about the hardware. Considered the jewelry of the kitchen, you can decide between various types of materials, finishes, and styles from contemporary to traditional. You will find all kinds of shapes and sizes. You can also find cabinets that have hidden handles for a clean, more contemporary, minimalistic look.
Organization Features
Cabinets are meant for storage, and the doors are just their pretty faces. Cabinets have many interior options to maximize your storage space. Lazy Susans for corners, pull-out spice racks, trash bins, and docking stations for electronics are only a few of the many innovations today. The best way to choose your organization features is to map out how you personally use the kitchen. Need a place for bakeware or a station just for tea? Include those factors in your design.
KITCHEN AND BATH REMODELING FROM KENWOOD KITCHENS
Ready to get started on your next kitchen, bathroom or closet project? Kenwood Kitchens can help. Since opening its doors in 1974, Kenwood Kitchens has made a name for itself throughout Maryland as a complete kitchen and bathroom remodeling firm.
We want our clients to get what they deserve: a quality installation with quality products, at a fair price. Contact our expert planners today for a free consultation about your dream project.
Our showrooms are unparalleled, each has over a dozen full models for you to explore. With showrooms located in Lutherville, Abingdon, Columbia or Annapolis, Maryland, Kenwood Kitchens is the place for all of your kitchen and bathroom needs. Don't hesitate to give us a call at (800) 211-8394.