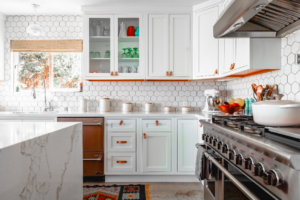 In the world of interior design, the term "transitional kitchen" is everywhere. A transitional kitchen design was the most popular kind in 2019 and continues to prove its worth in 2020. The question is, what makes this kitchen "transitional?" As traditional and contemporary designs have populated the market for decades, this new style incorporates the best of both worlds for a balance between traditional warmth and contemporary efficiency.
Classic Colors
A transitional kitchen makes use of a neutral color palette. Whites, grays, and beiges are what designers typically use. This coloration does not mean that one cannot have splashes of color, however. The backsplash, counters, and decorative items can give your kitchen that pop of vibrancy. Overall, the aim is to have timeless colors that balance out the rich warmth of a traditional kitchen and the starkness of a contemporary design. It is also beneficial for the real estate market since neutral colors are more appealing to buyers.
Clean Lines
While traditional kitchens come with ornate and detailed cabinetry, crown molding, and other features, transitional ones keep the strong characteristic of clean lines from its contemporary parent. It does not give off a sharp look necessarily, but rather one of simplicity. Details on cabinets are also simple and are more likely to be recessed. 
Textured Materials
The interest that transitional kitchens bring to the eye lies not in their colors or lines, but more so in their textures. It is popular to mix natural and man-made textures in this design. A designer can use anything, whether it be natural wood, engineered wood, glass, metal, or tile. Stainless steel appliances and quartz countertops are still fairly standard, but designers debate over what the best flooring material may be.
Room for Preference
Even so, it is up to you what accents, features, and materials you would like. In a transitional style, there is room to allow personal preference to come into play. You can have any style of pendant lights or just recessed lights. You can have under-cabinet and in-drawer lighting. You can choose whatever kind of flooring and sink fixtures you would like. A transitional kitchen is a balanced-enough design to accommodate. 
KITCHEN AND BATH REMODELING FROM KENWOOD KITCHENS
Ready to get started on your next kitchen, bathroom or closet project? Kenwood Kitchens can help. Since opening its doors in 1974, Kenwood Kitchens has made a name for itself throughout Maryland as a complete kitchen and bathroom remodeling firm.
We want our clients to get what they deserve: a quality installation with quality products, at a fair price. Contact our expert planners today for a free consultation about your dream project.
Our showrooms are unparalleled, each has over a dozen full models for you to explore. With showrooms located in Lutherville, Abingdon, Columbia or Annapolis, Maryland, Kenwood Kitchens is the place for all of your kitchen and bathroom needs. Don't hesitate to give us a call at (800) 211-8394.