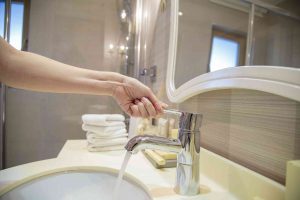 You don't have to compromise style or function when selecting a bathroom sink. Depending on your bathroom's decor, you may prefer different sink designs. To help decide which sink style is best for your bathroom remodel, familiarize yourself with each option below and assess its suitability.
Vanity Sinks
Concerning vanity sinks, they are designed to fit the cabinet they sit on. Depending on the style of the cabinet, you may have additional storage space underneath, such as drawers or shelving. Vanity sinks come in various shapes, sizes, finishes, and faucet configurations. 
They are also easy to clean and can be placed directly on your vanity. On the other hand, wall-mounted sinks do not have cabinetry support around them. They are bolted into the wall and connected directly to the water supply. These sinks are available in many shapes, sizes, and faucet configurations and can be found in flat wall arrangements and space-saving corner units. Wall-mounted sinks provide an uncluttered, minimalist look and are an ideal option for small bathrooms. Moreover, they expose more of the floor, making cleanup more accessible and your bathroom appear more prominent.
Pedestal Sinks
A popular choice in bathroom sink design, pedestal sinks offer a timeless look that exudes simple elegance. With no countertop space, the sink is mounted on a tall pillar made of the same material as the sink, creating a sleek and seamless look. Pedestal sinks are highly versatile and can complement various bathroom styles. They are particularly suitable for powder rooms, where space is limited. You can choose from a one- or two-piece design; pedestal sinks come in various shapes and sizes.
Undermount Sinks
Undermount sinks are installed below a cutout in the vanity, which makes them unnoticeable. Since the sink is mounted to the underside of the countertop, no defined edge is visible. The faucets are mounted directly to the vanity top or wall rather than in the sink. The flush design makes cleaning easy and maximizes your available counter space. Additionally, undermount sinks are available in various shapes, finishes, and sizes.
Vessel Sinks
A vessel sink is a unique and stylish option for a bathroom sink. It has a bowl design on the countertop or vanity rather than inside. These sinks are modern and come in highly artistic shapes and colors. They are customizable and available in many sizes, shapes, and finishes. However, it's important to note that these sinks require specific faucet types for the additional sink height.
KITCHEN AND BATH REMODELING FROM KENWOOD KITCHENS
Ready to get started on your next kitchen, bathroom, or closet project? Kenwood Kitchens can help. Since opening its doors in 1974, Kenwood Kitchens has made a name for itself throughout Maryland as a complete kitchen and bathroom remodeling firm.
We want our clients to get what they deserve: a quality installation with quality products at a fair price. Contact our expert planners today for a free consultation about your dream project.
Our showrooms are unparalleled, each has over a dozen full models for you to explore. With showrooms located in Lutherville, Abingdon, Columbia, or Annapolis, Maryland, Kenwood Kitchens is the place for all of your kitchen and bathroom needs. Don't hesitate to give us a call at (800) 211-8394.