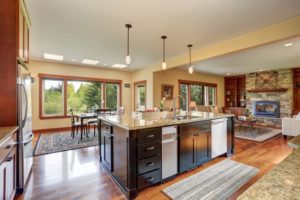 When you remodel your kitchen, you often need more flexibility regarding the placement of your appliances. The stove, fridge, sink, and cabinet placements are determined unless you plan on gutting the space and starting fresh. However, there is one place where you have some design freedom during your remodel. One design feature to consider adding to your home is a kitchen island with a dining space built-in. Continue reading to learn more about the benefits of kitchen islands.
A Functional Eating Space
With the increasing popularity of kitchen islands, it is beneficial to create distinct zones around them. Apart from your prepping and cooking areas, you can add seats to the end of your kitchen island, thus creating a designated eating area. This lets you sit and enjoy your meals instead of standing over the island and quickly grabbing a bite.
Serving Food Is An Easy Task
A dining space attached to your island can make casual dinners even easier. You can efficiently serve your family from the stove or oven, which is just a few steps away from the table. It also gives you more counter space at one end of the island, where you can place more significant food platters or drink pitchers, making more food within reach during dinnertime.
Kitchen Islands Are Great For Cooks
Kitchen islands that have dining spaces integrated into them provide an excellent opportunity to entertain guests while cooking. Instead of having your guests and you separated in different rooms, you can serve them food while chatting and spending time together. This also allows for a unique "chef's table" experience, where the food is served straight from the chef's tools, hot and ready to eat.
Spend Time With Friends And Family While Dinner Cooks
In the past, kitchens could have been better for dining due to the heat and mess caused during meal preparation. However, with more efficient appliances, "eat-in kitchens" have become more practical. Now, families can converse and socialize while cooking. Kitchen islands with dining spaces take this concept further by allowing people to gather around the meal prep area and socialize while cooking or enjoying their finished meal.
KITCHEN AND BATH REMODELING FROM KENWOOD KITCHENS
Ready to get started on your next kitchen, bathroom, or closet project? Kenwood Kitchens can help. Since opening its doors in 1974, Kenwood Kitchens has made a name for itself throughout Maryland as a complete kitchen and bathroom remodeling firm.
We want our clients to get what they deserve: a quality installation with quality products at a fair price. Contact our expert planners today for a free consultation about your dream project.
Our showrooms are unparalleled, each has over a dozen full models for you to explore. With showrooms located in Lutherville, Abingdon, Columbia, or Annapolis, Maryland, Kenwood Kitchens is the place for all of your kitchen and bathroom needs. Don't hesitate to give us a call at (800) 211-8394.