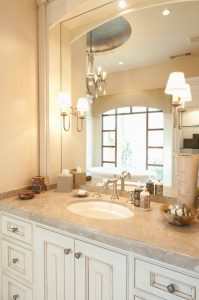 Your bathroom is one of the most critical rooms in your home that can provide a good return on investment, even with simple improvements. Upgrading the vanity is one of the best ways to update your bathroom. Various bathroom vanity styles are available, and you can consider how they can enhance your home. Here are some below that you should consider for your bathroom design.
Free-Standing Vanities 
A free-standing vanity is a piece of bathroom furniture that stands independently and is not attached to the wall. It looks like a dresser or a cupboard and is similar to a pedestal sink but has the added benefit of under-sink storage and the ability to conceal plumbing. The sink is integrated into the surface and is typically made of sturdy cabinetry.
Pedestal Sink
The sink on a pedestal is a simple and popular choice regarding bathroom vanities. This option is ideal for people with limited bathroom space or who prefer a minimalist design. It can be both efficient and stylish. However, there might be better choices for those who require ample counter space or storage.
Vessel Sink
This innovative design combines a free-standing vessel sink with a more traditional vanity setup. While it offers unique visual appeal and storage options, it may take up more space and come at a higher price point. Vessel sink vanities are commonly used in commercial areas like hotels or restaurants due to their modern style. With a wide range of vessel bowls, choosing the perfect one for your bathroom is easy.
Corner Vanities
A corner vanity can be an excellent solution if you have a small bathroom. These vanities are designed to fit into tight spaces, such as half-bath or washroom areas. They are small but can add style to any space and provide convenient storage. For instance, if your bathroom has room for only a toilet and a sink, a corner vanity can help you make the most of the available space.
KITCHEN AND BATH REMODELING FROM KENWOOD KITCHENS
Ready to get started on your next kitchen, bathroom, or closet project? Kenwood Kitchens can help. Since opening its doors in 1974, Kenwood Kitchens has made a name for itself throughout Maryland as a complete kitchen and bathroom remodeling firm.
We want our clients to get what they deserve: a quality installation with quality products at a fair price. Contact our expert planners today for a free consultation about your dream project.
Our showrooms are unparalleled, each has over a dozen full models for you to explore. With showrooms located in Lutherville, Abingdon, Columbia, or Annapolis, Maryland, Kenwood Kitchens is the place for all of your kitchen and bathroom needs. Don't hesitate to give us a call at (800) 211-8394.