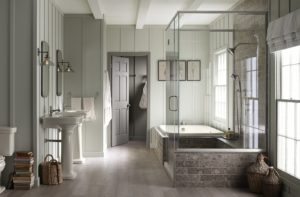 If you are planning to renovate your bathroom, choosing your bathroom flooring options is essential. With many designs available, you can install elegant flooring that is easy to maintain for years. Before you finalize your bathroom design, it's recommended to consider the advantages of different bathroom floor designs.
Waterproof Vinyl
If you're looking for a flooring option that is waterproof and durable, then consider waterproof vinyl floors. Available in wood plastic composite and stone plastic composite, these floors are designed to look like hardwood or stone floors but with added moisture resistance. They are highly resistant to scuffs, scratches, and stains, making them an excellent choice for homeowners who want beautiful floors with minimal maintenance. Additionally, they are easy to clean and affordable. If you're looking for bathroom flooring options that are both practical and stylish, then waterproof vinyl floors are an excellent choice.
Ceramic Tile Flooring 
For many years, tile has been one of the most popular choices for bathroom flooring, offering both durability and versatility. With tile, the possibilities for customization are endless, allowing you to express your inner interior design. Ceramic or porcelain tile floors are perfect for trendy and timeless flooring options, as they are highly durable and resistant to wear and tear, peeling, and scuffing in high-traffic areas. Additionally, these floors are easy to clean. However, it's worth noting that tile floors can often feel colder, but this can be addressed by installing radiant tile heating.
Natural Stone
Stone floors are beloved for their natural patterns and long-lasting beauty. They are available in various colors and textures, offering different bathroom flooring options. Many homeowners choose stone floors for the luxurious look they provide, as they are undeniably gorgeous and can instantly enhance the appeal and value of your bathroom. However, it's worth noting that these floors are often at a higher price point and require more maintenance to ensure longevity. If you're looking for a more budget-friendly and low-maintenance option that still achieves a similar look, porcelain tiles are a great alternative.
Water-Resistant Laminate Flooring
Over the years, synthetic laminate bathroom flooring options have evolved into modern, water-resistant varieties. Before installation, it's essential to confirm that the core material of your laminate flooring is waterproof. These bathroom floors are easy to install due to their interlocking designs. They can also imitate the look of stone and tile, providing a beautiful style at a lower price point.
KITCHEN AND BATH REMODELING FROM KENWOOD KITCHENS
Ready to get started on your next kitchen, bathroom, or closet project? Kenwood Kitchens can help. Since opening its doors in 1974, Kenwood Kitchens has made a name for itself throughout Maryland as a complete kitchen and bathroom remodeling firm.
We want our clients to get what they deserve: a quality installation with quality products at a fair price. Contact our expert planners today for a free consultation about your dream project.
Our showrooms are unparalleled, each has over a dozen full models for you to explore. With showrooms located in Lutherville, Abingdon, Columbia, or Annapolis, Maryland, Kenwood Kitchens is the place for all of your kitchen and bathroom needs. Don't hesitate to give us a call at (800) 211-8394.