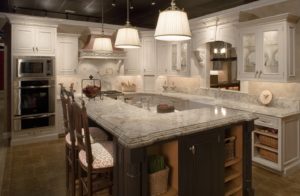 Proper lighting is an essential element of any room's design that is often overlooked. It not only provides visibility but also sets the atmosphere and mood. Bright lights can make a room uncomfortable, while dim lighting poses a safety risk. In the kitchen, adequate lighting is crucial for safe food preparation and to create a comfortable ambiance for guests to socialize in. Here are four key types of lighting that can be installed to create a layered and diverse lighting approach, providing everything you need to illuminate your kitchen. 
Ambient Lighting 
When lighting up your kitchen, ambient lighting is the go-to option. Choosing the proper overhead lighting is essential to balance functionality and design. Consider adding recessed lights or a light fixture above your central kitchen island. Installing dimmer switches can also help you control the strength of your ambient lighting. Treat your kitchen as part of the living room to create a cohesive lighting scheme that blends well with nearby rooms and the rest of your house. Avoid creating a starkly bright kitchen that stands out from the rest of your home's lighting environment.
Task Lighting 
Task lighting is the way to go for specific areas in your kitchen. It is vital in places where you clean and prepare food. By providing precise and direct lighting, task lighting makes it safer for you to work and reduces eye strain. You can use different types of task lighting, such as LED light strips under your cupboards, recessed lights in the pantry or above the island, and hanging lights. It's best to place the task lighting above the work area to ensure you don't create shadows while working.
Accent Lighting 
Accent lighting can be used to draw attention to specific objects in your kitchen, such as works of art or collectibles like your fine china cabinet. Wall lights or track lighting are recommended to spotlight these items. If you have a glass cupboard, adding a light inside can improve the visibility of its contents. Additionally, accent lighting can be used to emphasize certain kitchen design features. For instance, lighting can enhance the appearance of materials like solid wood or provide more depth and dimension to kitchen niches.
Decorative Lighting
Adding decorative lighting can be a great way to finish your kitchen design. When choosing decorative fixtures, selecting ones that enhance your space without being too overpowering is essential. These lights are meant to create a pleasant atmosphere and highlight the beauty of your room without taking away from the functionality of your other lighting fixtures.
KITCHEN AND BATH REMODELING FROM KENWOOD KITCHENS
Ready to get started on your next kitchen, bathroom, or closet project? Kenwood Kitchens can help. Since opening its doors in 1974, Kenwood Kitchens has made a name for itself throughout Maryland as a complete kitchen and bathroom remodeling firm.
We want our clients to get what they deserve: a quality installation with quality products at a fair price. Contact our expert planners today for a free consultation about your dream project.
Our showrooms are unparalleled, each has over a dozen full models for you to explore. With showrooms located in Lutherville, Abingdon, Columbia, or Annapolis, Maryland, Kenwood Kitchens is the place for all of your kitchen and bathroom needs. Don't hesitate to give us a call at (800) 211-8394.