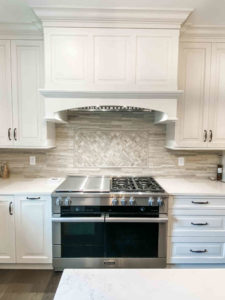 Revamping a kitchen is a great way to breathe new life into the space. One of the simplest ways to achieve this is by applying a fresh coat of paint, but selecting the perfect kitchen paint color is critical. The wrong hue can make your kitchen look gloomy and uninviting. It's crucial to choose a paint color that enhances the ambiance of your kitchen, making it warm, inviting, and relaxing. To assist you in finding the ideal shade for your kitchen, keep these tips in mind.
A Paint Color To Set The Mood
Choosing the right paint color for your kitchen is crucial, as different colors evoke different moods. To ensure a peaceful ambiance, you must think carefully about the feel you want to create in the room. If you prefer a calm and welcoming space, opt for soft hues. But if you want your kitchen to have a lively and energetic vibe, consider bright colors. Keep this in mind when shopping for your kitchen paint color.
Match Your Decor
When selecting a color for your kitchen walls, it is essential to consider whether it matches your current décor. If you don't want to change your kitchen design, avoid picking a color that clashes with your cabinets, counters, and appliances. To help you decide, try painting a few samples on the wall and compare them with your existing items. If they don't look good together, it's best not to use that color.
Consider Kitchen Lighting
It's essential to keep in mind that the paint color you choose for your kitchen might look different depending on the lighting. It would help if you considered both natural and artificial lighting to make sure you're happy with how the color looks. When looking for paint at a hardware store, you can use a "lightbox" to test the shades under different lighting conditions. This will help determine if your favorite color still looks good under different lighting.
Use A Custom Color
If you want to create a unique and original kitchen design, the usual paint colors don't quite fit the bill. Luckily, you can always make a custom kitchen paint color by mixing two or more colors to create a new shade that perfectly complements your backsplash or appliances. The professionals at Kenwood Kitchens are experts in this field and can provide valuable advice on finding the best color for your kitchen.
KITCHEN AND BATH REMODELING FROM KENWOOD KITCHENS
Ready to get started on your next kitchen, bathroom, or closet project? Kenwood Kitchens can help. Since opening its doors in 1974, Kenwood Kitchens has made a name for itself throughout Maryland as a complete kitchen and bathroom remodeling firm.
We want our clients to get what they deserve: a quality installation with quality products at a fair price. Contact our expert planners today for a free consultation about your dream project.
Our showrooms are unparalleled, each has over a dozen full models for you to explore. With showrooms located in Lutherville, Abingdon, Columbia, or Annapolis, Maryland, Kenwood Kitchens is the place for all of your kitchen and bathroom needs. Don't hesitate to give us a call at (800) 211-8394.