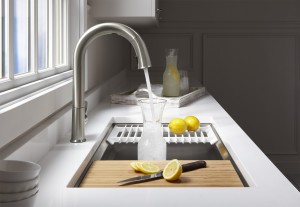 It can be frustrating when the kitchen is always dirty with crumbs, spills, and clutter. At the same time, some cooks in the family are naturally messy chefs. A clean and tidy space is beneficial for everyone and eases the eyes. The best ways to keep your kitchen clean include the following tips.
Clutter-free Counters
People are seeing a higher trend toward keeping as much clutter off of their countertops as possible. While some appliances such as your microwave or coffee maker may have no better place to go, having a cupboard to stash away your inventory will make the space feel much tidier and motivate you to cook. 
Clean Before You Start
If you struggle with keeping your kitchen clean, one of the best ways to train yourself into cleanliness is to clean the kitchen right before you start to cook. If you see crumbs or stray utensils, now is the time to clear the area for a fresh start.
Clean Whenever You Can
Ideally, you would wipe away all signs of your presence immediately after preparing your dishes. If you can do this, that is fantastic. However, to make the purge less taxing at the end, you can clean up smaller messes while you wait for your food to cook.
Schedule Your Chores
Another way to keep it tidy involves scheduling when you do the chores. If you have specific days for specific tasks, you'll be more likely to get them done and maintain the bigger aspects of a tidy kitchen, like doing the dishes.
Stack Smartly
Organization is key to moving efficiently through your culinary abode. A simple part of organizing here is stacking less-used items on the highest shelves and most-used items on the eye-level shelves and in the top-drawers. 
Shed the Extras
As for organizing your goods, you may find that you have more than enough. Put extra items like your third spatula or your ragged dishtowel in a box for trash or charity. Downsize to only what you need.
Store Efficiently
Lastly, your kitchen will gain the best advantage for organization and cleanliness if you have an efficiently-designed kitchen. Some older kitchens fail to make the most of all the space available. A better-designed kitchen is the base for high efficiency.
KITCHEN AND BATH REMODELING FROM KENWOOD KITCHENS
Ready to get started on your next kitchen, bathroom or closet project? Kenwood Kitchens can help. Since opening its doors in 1974, Kenwood Kitchens has made a name for itself throughout Maryland as a complete kitchen and bathroom remodeling firm.
We want our clients to get what they deserve: a quality installation with quality products, at a fair price. Contact our expert planners today for a free consultation about your dream project.
Our showrooms are unparalleled, each has over a dozen full models for you to explore. With showrooms located in Lutherville, Abingdon, Columbia or Annapolis, Maryland, Kenwood Kitchens is the place for all of your kitchen and bathroom needs. Don't hesitate to give us a call at (800) 211-8394.