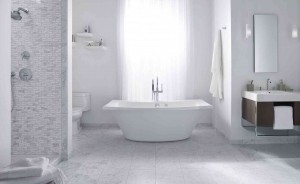 Fewer Americans take baths today. For many, washing in the bathtub is only for children. However, some are aware of and participate in the luxury of the bath. Most American homes have a bathtub, and there are indeed many good reasons to make the most of it, no matter how old one is.
Inherently Relaxing
Steeping oneself in warm water is naturally relaxing, and even more so if one adds essential oils or other ingredients healthful for the skin. There is something inherently comforting about sitting in warm bath water, and proves to be an effective stress-reliever.
Increase Circulation
Taking a bath also increases blood circulation. A person's body temperature rises, and the result is a lowered risk of heart attack, heart disease, and stroke. Getting the blood to flow better helps the system loosen up and keep you in good health.
Burn Calories
While soaking in the bathtub increases blood circulation and one's body temperature rises, the body begins to sweat. Taking a warm bath actually is a workout that refreshes you; studies have shown that taking a bath burns calories. Instead of taking a walk around the block, you can lie back in a beautiful bathtub instead. (However, a bath will not replace a workout.) 
Conquer Cold and Flu
Along with improving the heart, soaking in a tub also benefits one's respiratory system. Viruses do not like humid conditions; plus, breathing in the warm, humid vapors helps to open up the sinuses and let out the germs. Breathing this kind of air also can strengthen one's immunity.
Relax Muscles
If you or someone you know has arthritis or muscle pain of any kind, taking a bath is highly recommendable. The temperate water relaxes stiff, aching muscles and can even increase one's range of motion. The increased blood circulation assists in this health improvement. Adding Epsom salts to the bath can further give relief to stiff, inflamed joints.
Deep Sleep
Taking a bath will not tire you out, despite the calorie burn. In fact, you will feel more awake and alert. Supposedly, your mind can feel sharper after the rise in your blood circulation. Once you leave, your body's temperature will grow colder more rapidly. Our bodies naturally grow colder as we sleep, which aids in the production of the sleep hormone, melatonin. One's lowered body temperature after a bath can assist in a deeper sleep. 
KITCHEN AND BATH REMODELING FROM KENWOOD KITCHENS
Ready to get started on your next kitchen, bathroom or closet project? Kenwood Kitchens can help. Since opening its doors in 1974, Kenwood Kitchens has made a name for itself throughout Maryland as a complete kitchen and bathroom remodeling firm.
We want our clients to get what they deserve: a quality installation with quality products, at a fair price. Contact our expert planners today for a free consultation about your dream project.
Our showrooms are unparalleled, each has over a dozen full models for you to explore. With showrooms located in Lutherville, Abingdon, Columbia or Annapolis, Maryland, Kenwood Kitchens is the place for all of your kitchen and bathroom needs. Don't hesitate to give us a call at (800) 211-8394.