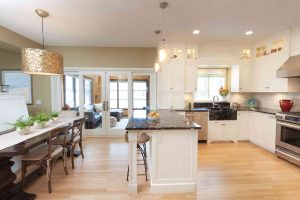 Kitchen Remodeling Services in Mayo
If you are thinking of remodeling your home in Mayo, you might not know where to start, that's why kitchen remodeling services are so useful. Our design team has been together for more than 40 years and all of that experience will show. Your own style can be extended all over the kitchen, even if you aren't planning on making it too extensive. What are some of your style options? It's time to find out. 
Style with a Smile 
The Traditional Style – The traditional style of a kitchen has lasted for centuries. Coziness and craftwork come together to reflect that aesthetic. Its popularity is demonstrated by how long and how enduring this style has been. Even if your Mayo home is designed according to other trends, that doesn't mean your kitchen remodeling project has to be on the same wavelength. Once the major parts of the remodel are done, you can take it to the next level with beautiful new cabinets and fluted panels or elegant trims. The hardware is often made of brass that is paired with countertops that are typically made of granite or marble.
The Contemporary Style – The contemporary style could be what you fancy. This style leans into two very valuable looks that are highly prized right now – sleekness and modernity. It's not too late to get in on this choice, but there's no time like the present to buy in and get the next phase of your project underway. An open floor plan is one way to set your kitchen apart from that of your neighbors in Mayo. Wood, metal, and stone are all combined in sophisticated ways that will make your kitchen feel like a beautiful showroom. Take the time to admire what you have accomplished through the kitchen remodeling services that Kenwood Kitchens can offer you!
The Transitional Style – Now let's take a few minutes to discuss the transitional kitchen style. As the name implies, a transitional kitchen is meant to blend two different styles. By taking advantage of our expertise, you can make this happen and help realize your dreams in time for your next big event. Whether you want to prepare for the Easter holidays or you have other special occasions marked on the calendar for March, April, and May, the time is right for you to get your next change underway. That way, you can enjoy the outcomes of everything once it is complete. 
The Fundamental Elements 
Cabinets: Now that we have reviewed all of that let's switch gears to the individual components of your kitchen. A beautifully redesigned new kitchen takes plenty of work behind the scenes. Don't take your cabinets for granted. Feel free to experiment with different materials and styles to match the theme of your kitchen remodeling endeavor or something that stands out in gorgeous contrast. 
Backsplashes: Backsplashes are also vital parts of your new-look kitchen. Don't take them for granted, either. After all, they are meant to protect your countertops from splashes and spills. You'll often find them behind the sink and around the stove. Play around with materials, colors, and textures until you find the one that you like best!
Islands:  Want to make your current kitchen more efficient? Turns out, that's one of the most common reasons why homeowners in Mayo choose our kitchen remodeling services. Islands give you more space to make meal prep happen. It's also another place to sit and eat or hold long conversations punctuated with many laughs and smiles.
Lighting: Making your kitchen brighter is another worthwhile pursuit. Accent lighting, mood lighting, task lighting, and ambient lighting are all essential, so don't forget to give them up an upgrade or two as well!
For more information about kitchen remodeling costs, call (800) 211-8394 or contact us to speak with a representative.