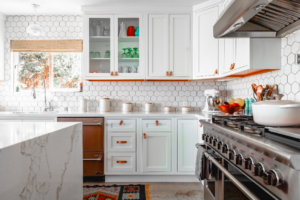 Do You Need Kitchen Remodeling Services in Annapolis? Consider Our Process!
Designing your kitchen goes beyond what you can dream up! Sometimes you need to remodel your kitchen and revise your vision of what it could be. If you need such services somewhere in the Annapolis area, then you are in luck! That's because our services are at your disposal! It's time to find out more about what our process entails. 
Design Step 1 
Start by assessing the current design of your kitchen. This step must be completed before any further work on it can commence. What is your lifestyle like right now, and how might it change once you have the updates you've wanted for ages? Those questions need answers if you are to take the most important room in your Annapolis home to the next level. Sometimes, it's as easy as adding a kitchen island or only changing part of the kitchen, a procedure known as a partial remodel. Performance changes are one thing, and aesthetic refreshments are another matter altogether. Rejuvenating the cabinets, countertops, faucets, sinks, appliances, and backsplashes could be all you need to do, but what if that isn't enough. Let's find out what comes next.
Design Step 2
So what is design step two? It concerns how functional your kitchen is. If this is the aspect you'd like to improve, then the chances are good that a partial remodel might not fit the bill. Compare how much space you have right now to how much your ideal kitchen layout has. Then think about how organized, accessible, and easy to use it is. You've also got to think about how long your kitchen will last, and the upkeep involved in making that duration last longer. Getting new models of older appliances isn't the answer you need – and you shouldn't have to settle, either! With the great services that Kenwood Kitchens can offer you, don't be afraid to let your dreams run wild. Sometimes, a rotating corner cabinet, like a miniature lazy Susan, can make more of a difference than you might expect! Plus, this choice has less impact on your overall project budget. What does that mean? You can reallocate funds to other parts of your kitchen that might have been too costly to defray before you adjusted your cash flow. 
Design Step 3 
Now comes the third step. It all has to do with how your space will look once the kitchen remodeling process is complete. Since we have over four decades of experience in this arena, you know you can trust our professional opinion. Many trends come, and many trends go; they are bound to fade away and resurge in popularity. Still, we can help set you up with a sleek and modern kitchen remodel that won't expire just a few years down the road from now.
Renovation Stage 1 
Even so, that might not be enough to unleash your true idea of what your kitchen could be. That's why we also offer expert renovation services for your Annapolis home's kitchen. The first two days are known as the "tear-out" stage. This name comes from the plumbing, electrical systems, and carpentry being removed. With all of the dust and noise in the home, you might want to consider staying with friends or relatives during this first stage of renovating your kitchen. 
Renovation Stage 2 
The second stage of the renovation process goes a little bit further. On the third and fourth days, you will become familiar with the mechanical rough-in part of the process. This stage is when the redesign of the placements for plumbing, electrical, and appliances will take place. During this part of the operation, it is imperative that you plan out all of your kitchen and bathroom needs – staying with friends or relatives will certainly be easier!
Renovation Stage 3 
The final stage of the renovation begins on day five and continues for the rest of the overall kitchen remodel until it is done. Cabinets, fixtures, floors, backsplashes, molding, doors, and hardware are finally installed and optimized to help realize your dream kitchen!
For more information about kitchen remodeling costs, call (800) 211-8394 or contact us to speak with a representative.