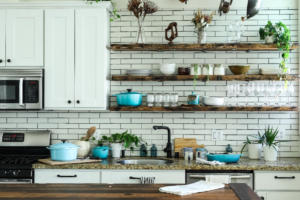 Kitchen Remodeling Services in Riva – What Do You Need?
Kitchen remodeling services can make your life easier. If your Riva home needs a new kitchen, then try to see what you can accomplish through our easy-to-use kitchen planning guide! We also have some tips for you when it comes to planning your kitchen remodeling project. The big question here is, "what do you need?" Let's talk about it together! 
Our Reputation 
Trust is the best building block you can rely on for help when it comes time to plan a kitchen remodeling project. When you work with Kenwood Kitchens, you know you have someone you can trust in your corner. We have a good reputation in towns all over Maryland, such as Lutherville, Columbia, Annapolis, Bel Air and throughout the rest of the state. You can rest assured knowing we can provide you with great service, high-quality construction, and plenty of experience paired with friendly advice. You will also have many, many questions, and we will strive to answer them for you however we can. In the meantime, follow some of our tips for how to get the process started!  
Initial Design Tips
Focus on the so-called "work triangle" that should define the design of your new-look kitchen. This triangle connects the three major anchors of the room – the refrigerator, countertop prep space, and the stove or oven where you can leverage the heating element into the mix. The reason for this is that there will be more foot traffic in this zone than in other parts of the kitchen, no matter how large your kitchen is. 
The Layout of Your Dream Kitchen
The more space you have in your kitchen, the easier it will be to move around. That's precisely why you need to optimize your layout so that you can achieve the kitchen you have dreamed about for months. For this step, some sketches and blueprints might come in handy. By doing this, you can visualize what comes next. Draw a straight line between the sink, fridge, and cooktop. Make sure that the gap between them is between 12 and 24 feet. If you include less than 112 feet of space it will be too cramped, and adding more space leads to too much walking, especially when you need to carry something heavy. Plan for the sink to be in the middle to help balance out the kitchen, but be mindful of where the plumbing lines are, as those need to be accounted for to prevent flooding or other related mishaps. 
Kitchen Remodeling Services from Kenwood Kitchens
Forgetting about the little details and finishing touches won't help you achieve your dream kitchen in Riva. By engaging the kitchen remodeling services available from Kenwood Kitchens, though, you can! Here is some more information about what to expect: 
We can help you plan the entire project from top to bottom. What aesthetic do you want your new kitchen to have? Do you value unity? What about turning your kitchen, living room, and dining room into a great room? Have you ever wanted a kitchen island or a pass-through? You can have these functions and features. Remember to prioritize consistency, which is something our services can do for you. The motifs and artwork in your kitchen can help elevate your space, but think about the architecture that was already there – can it make sense with or without a major overhaul? That is another important question you need to ask yourself. Finally, find out what makes your house unique. If it stands out in your Riva neighborhood, find ways to play that up! Our kitchen remodeling services can make it so much easier, so call us today!
For more information about kitchen remodeling costs, call (800) 211-8394 or contact us to speak with a representative.